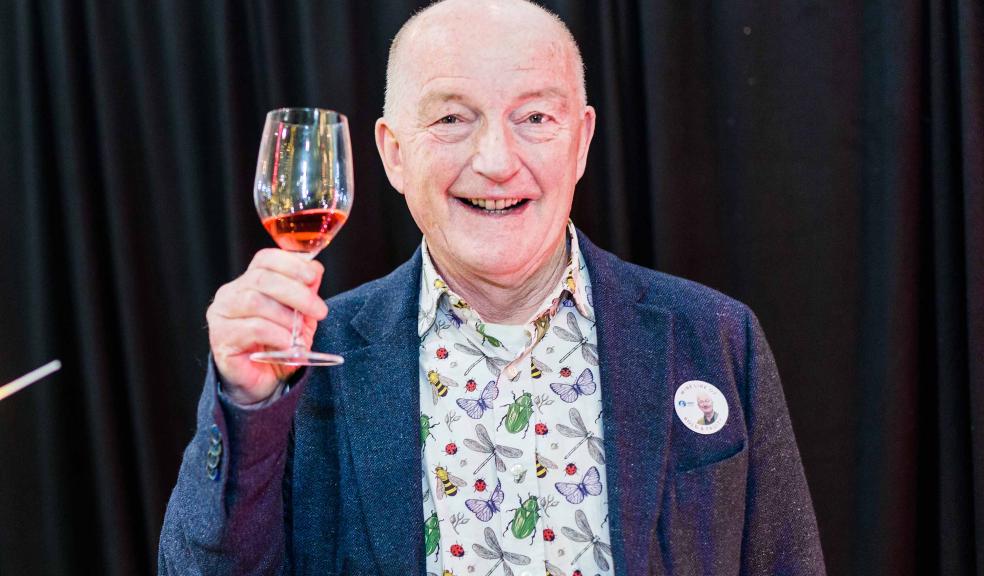 Oz Clarke OBE To Host Food Drink Devon 2021 Awards
Oz Clarke OBE, one of the world's leading wine experts, is to host this year's prestigious Food Drink Devon Awards.  Celebrated for having one of the finest palates of anyone writing about wine today, Food Drink Devon is delighted to welcome Oz to their glittering black tie awards' ceremony on Monday 4th October, during which Oz will have the honour of announcing the winners.  Entries to the awards close on Friday 30th April 2021, further details can be found at www.foodanddrinkdevon.co.uk/2021-awards.
After a challenging year, Devon's outstanding food and drink producers, retailers and hospitality establishments will be able to celebrate in style, enjoying a culinary feast of the very best Devon has to offer, while wine writer, presenter and broadcaster Oz reveals who has been victorious in each category.  This year's categories currently open for entries to both members and non-members of Food Drink Devon include the 'Producer Awards' with Silver, Gold and Platinum awards available alongside 'Food Product of the Year' and 'Drink Product of the Year' awards.  'Retail Awards' include 'Best Retailer' and 'Best Online Retailer', while the always highly sought-after hospitality section of the awards cover 'Best Fine Dining Restaurant', 'Best Restaurant', 'Best Pub', 'Best Bar or Bistro', 'Best Café or Tearoom' and 'Best Takeaway or Street Food'.  In addition, Silver, Gold and Platinum awards will also be available in the retail and hospitality categories.  
Meanwhile, after several attempts thwarted by lockdown restrictions, the team at Food Drink Devon has eventually been able to bring the winners of the 2020 awards together.  Mike Young, vice chair of Food Drink Devon commented: "At last, after several postponements due to lockdowns the winners of the 2020 awards, which were held virtually, were able to meet so we could present them with their certificates and awards."  
Mike continued: "Obviously, the low-key ceremony was carried out in a carefully socially-distanced fashion in the gardens of Food Drink Devon's office manager, Ali Neagle.  By using different lenses, photographer Steve Haywood was able to disguise how far apart we all were when capturing the winners collecting their trophies."
The gold standard industry awards which celebrate Devon's magnificent food and drink, recognise the county's most respected, influential and passionate artisan producers and establishments.  Mike added: "Collecting an award may seem fairly unimportant in the general scheme of things, but these accolades really do make a difference to the businesses concerned.  Having a Food Drink Devon winners' plate on the wall is a matter of great pride and our research shows that customers really do sit up and take notice.  Added to that, businesses and individual producers use the awards in their marketing material when telling the world about what they do - and never has that been more important."  
"We are now looking forward to the 2021 awards which will be our 10th and are absolutely delighted to have Oz joining us to mark the occasion." Mike concluded.
Covering food production, preparation, retailing, cooking and service, the Food Drink Devon Awards honour businesses demonstrating a consistent commitment to quality, sustainability, provenance, excellent customer service and support for their local communities and other local businesses.  Each year judging for the awards is carried out by a panel of independent and unbiased experts including a number of celebrated names from the region.  All results and winners are verified by an independent adjudicator, with entrants receiving the opportunity to benefit from invaluable product feedback provided by the panel.  
Food Drink Devon is committed to increasing the county's profile, both nationally and internationally and represents a membership of Devon's leading food and drink producers, speciality retailers, hospitality and catering businesses.  Through working with like-minded businesses, together they showcase Devon as a county where the use of fantastic quality, seasonal and local produce is standard.  The organisation and its members share a commitment to enjoy, inspire and discover more about food and drink.  Look out for their green heart logo which is carried by over 280 producers and businesses across Devon.  
For more information on Food Drink Devon please visit www.foodanddrinkdevon.co.uk and follow @FoodDrinkDevon on Twitter, Facebook and Instagram.  To enter the awards please contact Ali Neagle on 07789 666064 or email admin@fooddrinkdevon.co.uk.