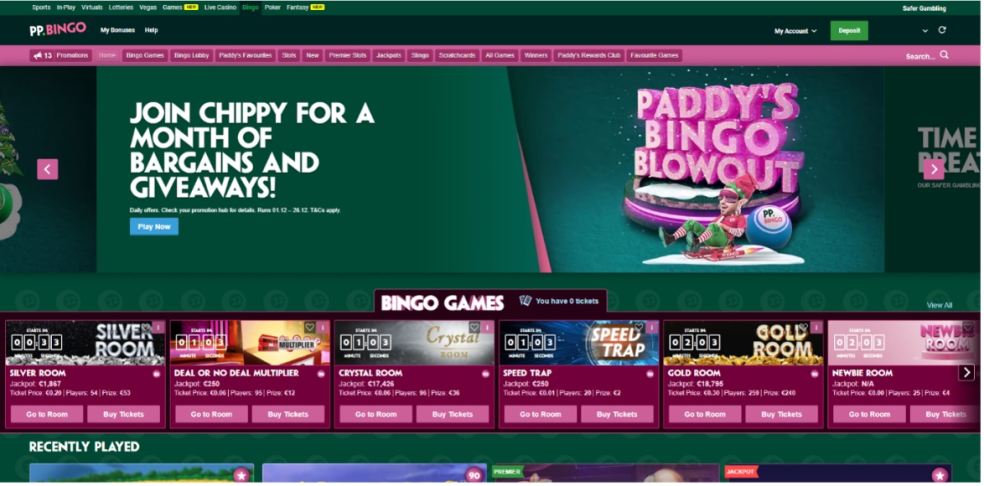 Top three interactive Paddy Power campaigns
Paddy Power are known for causing a stir with their PR campaigns and publicity stunts, all year round. But isn't that what makes them so popular? The bookmakers have been jumping on the latest trends in modern media since 1988, using themes and characters to keep their audience engaged in their latest campaign.
In particular, these outlandish marketing efforts have found themselves geared towards their beloved branded Bingo page – finding new ways to incorporate those colourful, numbered balls into the most unlikely of places and, of course, getting their players involved along the way!
With this in mind, join us as we take a look at some of the best interactive digital campaigns that have come from the great minds over at Paddy Power Bingo HQ.
Paddy's Island
Despite the weather now turning frosty, let's take a look back at one of Paddy's more fiery campaigns. Tagging on to the fame and fortune of Love Island – a unique dating show watched by millions each night – Paddy Power created their very own version of the show, debuting as a short digital series last summer.
Entitled Paddy's Island, the inspiration was clear. The PR team cleverly took on the very nuances from the original hit show, reinventing the tropes of relatable characters, drama and, of course, a much sought-after prize.
The interactive edge to this campaign came from the competition aspect, that featured in each webisode. After getting up to date with all the latest drama in the villa, players would then be asked to answer a question, such as: How many Bingo balls are present on the screen? Although the question would change in each episode, viewers would always be asked to count a certain item, before heading over to the Paddy Power website to submit their answers, and be in with the chance of winning a grand!
Drag it Out
Nominated for the Best Bingo Marketing Campaign at the EGR Marketing and Innovation Awards this year, Paddy Power's collaboration with some of the top queens from RuPaul's Drag Race UK made a big impact – perhaps due to the interactive element.
A selection of fan favourites were invited down to a glitzy studio, and tasked with filling a MINI Cooper with as many oversized Bingo balls as possible. Then, virtual contestants watched this task unfold from the comfort of their own homes, via a live stream. To be in with a chance of winning, the viewers had to successfully guess how many balls had been loaded into the car.
Keeping track of the balls kept viewers engaged, and made them want to stick around for that final reveal. This was also a great way to get people involved, without leaving their house, providing a respite from the various lockdowns we have all experienced the past couple of years, whilst also staying safe.
Paddy's Bingo Blowout
The latest interactive Bingo campaign to come out of the Paddy Power team is this festive themed clickthrough virtual advent. Chippy – the middle aged elf in pointy shoes – sits on the top of a rocket-fuelled sleigh, eagerly beckoning players to take part. This map-style campaign fits in nicely with this time of giving, dishing out unique prizes and bonuses each and every day. All you have to do is log into your gaming account, and you can start your journey across the map.
Each spot on the screen comes in the form of a floating icicle, with a famous monument from around the world mounted on the top. As you click through each day, you'll land in a new destination and be rewarded with a brand-new bonus.
The promise of a gift is what keeps players coming back for more, with the sharp graphics of both Chippy and his next stop making the journey truly come alive. For example, on day one, all those virtually involved visited the leaning tower of Pisa, before your elf tour guide dishes out a £40 Bingo Bonus for all players who deposit and play £10. What's not to love?
Interactive campaigns are a great way to make PR feel more real, and your consumers feel involved. Whilst the Paddy Power team love to shock and surprise, they also like to bring their players in on the action – which always gets great results.