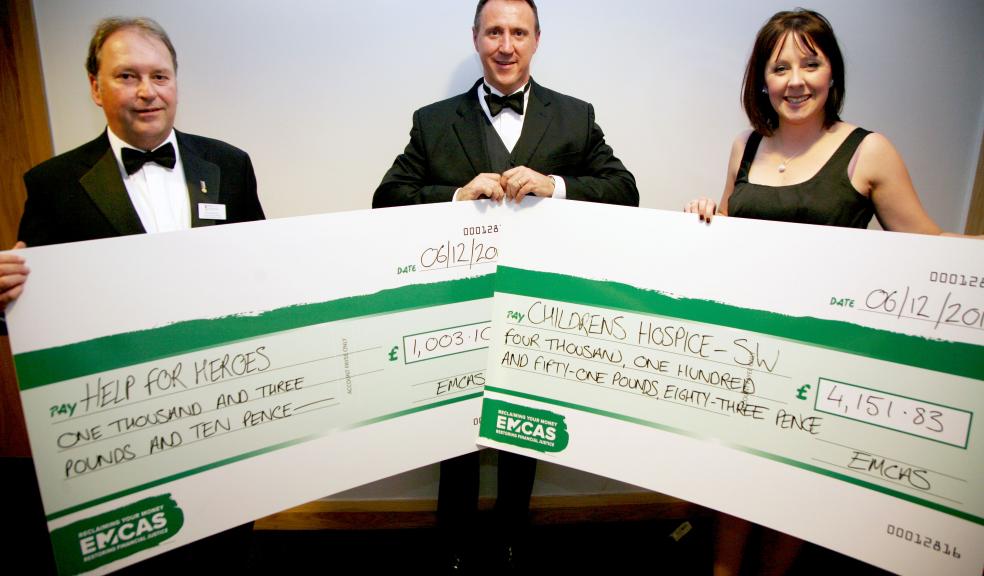 Devon's EMCAS Raises Over £6,300 For Charity
Devon-based EMCAS, one of the country's leading financial Claims Management Companies, has marked a year of achievement and fundraising with the presentation of cheques totalling £6,300 to South West Children's Hospice, Help for Heroes, and Grief Encounter. The cheques were presented at EMCAS' annual Staff Awards.
In addition to celebrating its fundraising work, the Awards acknowledged individuals and their teams for their determination to help customers recover many thousands of pounds for mis-sold financial products. To date EMCAS' has helped over 530,000 customers reclaim more than £440 million in compensation.
Special recognition was given to both the Savings and Investment team, which helped one couple recover more than £280,000 for a mis-sold investment product and EMCAS' Pension Team who played their part in one customer reclaiming over £270,000 for a mis-sold pension product. A host of other staff were also celebrated for their exceptional customer service levels and outstanding contributions to the business.
Commenting on the fundraising and Staff Awards Craig Bernhardt, Chief Executive Officer for EMCAS, said: "2013 has been an incredibly busy year for both the business and our staff; we have raised significant sums of money for good causes and have helped thousands reclaim what is rightfully theirs after they have been mis-sold financial products.
"We can be very proud of our achievements and especially proud of the fact that our efforts have been recognised by the London Stock Exchange Group, which has identified EMCAS among its '1,000 Companies to Inspire Britain'."
From the start of the financial year EMCAS held several events and initiatives to raise money for good causes including fancy dress days, cake sales, wristband sales, and charitable tuck shop collections.
Staff from their Exeter, Taunton, Paignton and Torquay offices participated in the fundraising events, while the company's Chief Executive Officer, Craig Bernhardt, personally rose over £2,100 for South West Children's Hospice by completing four gruelling challenges in four weeks, including two triathlons, a 5k fun run through Exeter, and a 210 mile cycle.
EMCAS hopes to further add to this figure, with its staff aiming to raise in excess of £10,000 by the end of the financial year in April 2014.
For more information on how EMCAS can help consumers with claims visit www.emcasclaims.co.uk or call 0800 093 4309