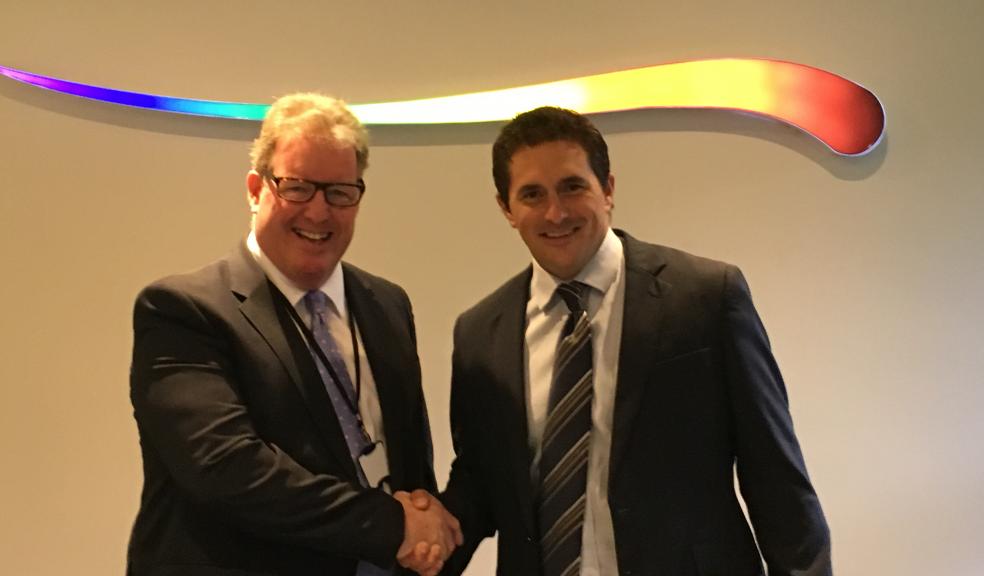 Plymouth based Artemis host Johnny Mercer as they announce £500k partnership
Artemis Optical, leaders in the design and manufacture of bespoke optical thin film coatings, hosted a visit by Plymouth MP Johnny Mercer in the same week they announced a £500k deal with a top European electronics firm to provide head-up displays (HUDs) for military aircraft.
Mr Mercer saw at first hand Artemis' capabilities and some of the enabling technologies which it supplies into defence and aerospace applications. Nick Hurst, CEO, and Jamie Pindard, Sales and Marketing Director, explained some of the company's frustrations and challenges in defence procurement.
The £500k contract is the latest in a series of successes for Plymouth-based Artemis, which has produced over 3,000 HUD combiners and currently has products flying on 14 different aircraft worldwide.
HUDs enable data to be projected into a pilot's line of sight, and remove the distraction of having to look down at instrumentation. They also take up an eighth of the space of previous HUDs and are four times lighter, which adds huge value in the limited space of an aircraft's cockpit.
Johnny Mercer said: "I was really impressed with Artemis Optical and the drive and dedication shown by the management and all the staff.
"Their outward facing attitude and effectiveness has secured a European deal which is really encouraging in this current EU climate as well as securing defence contracts which is the rock bed for Plymouth businesses and keeps Plymouth relevant and current in the eyes of Whitehall.
"Plymouth needs business like this and Artemis Optical have not disappointed. I was delighted to see their success first hand today."
Nick Hurst said: "It was fantastic to be able to showcase our capabilities to Johnny, given his strong interest in defence. Our technology has the capability to save lives on the battle field, and we are proud to be a Plymouth company providing this world-leading technology."
Artemis' 22,000 square foot purpose-built facilities include a 16,000 square foot environmentally controlled production laboratory and a range of modern coating chambers. Artemis has the capability to manufacture neutral, colour selective and amplitude graded combiners.
With 25 years of experience in the design and manufacture of HUDs, Artemis is a recognised centre of excellence for producing thin film coatings that enable cutting-edge applications in the aerospace, defence and healthcare sectors.
For more information, visit www.artemis-optical.co.uk