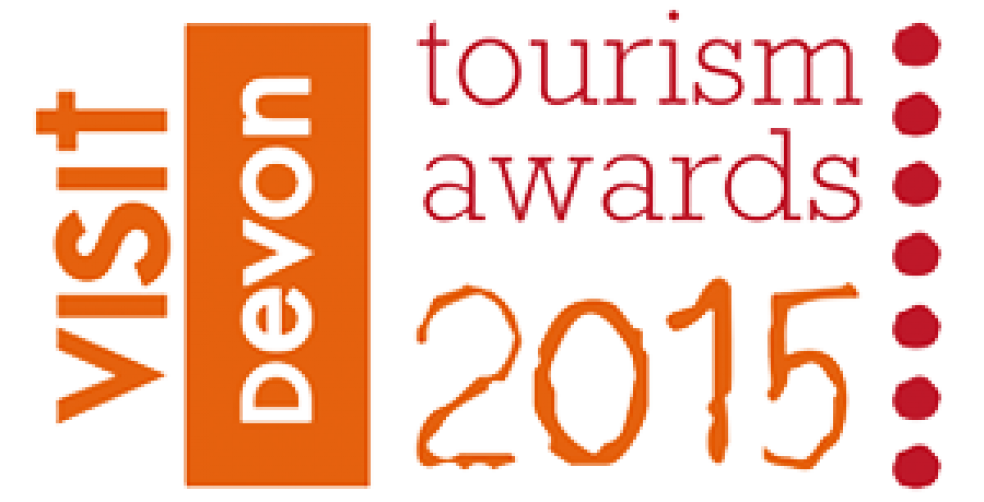 Devon Tourism Awards 2015 finalists announced
Devon's leading tourism businesses have been chosen for the finals of the Devon Tourism Awards which will be presented at a prestigious ceremony on 26th November 2015.
This year sees an increase to 22 categories in the competition which is now in its 6th year following its launch in 2010 in association with Visit Devon.  The year also saw an increase by 34% to 174 entries from the cream of the Devon tourism industry, with 65 businesses selected as finalists who will be in suspense until 26th November when they will learn whether they have won Gold, Silver or Bronze awards.
The winners will be announced at the Awards Ceremony on 26th November at the Holiday Inn in Plymouth, where the event will be hosted by Judi Spiers along with a special guest.
Successful businesses in the Devon Tourism Awards will then be fast tracked into the South West Tourism Excellence Awards in February 2016 and then possibly invited to represent Devon in to the National VisitEngland Awards later in 2015.
The Chairman of the Awards Panel, David Fursdon, says:
"The Devon Tourism Awards have shown once again that this County has a wonderful group of hardworking and imaginative entrepreneurs whose tourism businesses are a credit to them; a source of pride to those of us who live here and act as a powerful magnet to those who visit."
Visit Devon Chairman, Victoria Hatfield, comments: "It is an inspiration to see the year-on-year investment in quality that keeps Devon at the forefront of tourism.  This year's list of Finalists is longer than ever and I offer my congratulations to them all"
Paul Hardingham, Commercial Director of Headline Sponsors Hoseasons, says: "Devon represents everything that is exceptional about the Great British break - that's why we are delighted to be supporting these awards once again. We help bring thousands of people to the area every year, but it's the passion and dedication of the businesses we work with that keeps them coming back for more. Well done to the winners and all the best for another fantastic year in 2016!"
Awards organizer Robin Barker of Services for Tourism commented: "I just love this industry!  This year's judges have visited 97 Devon businesses – more than ever before – and their reports are a joy to read."
DEVON TOURISM AWARDS FINALISTS 2015  in association with Hoseasons www.hoseasons.co.uk
ACCESS & INCLUSIVITY
Sponsored by Purple Cloud Consultancy  www.purplecloudconsultancy.co.uk
Finalists           
Calvert Trust Exmoor, Kentisbury  www.calvert-trust.org.uk/exmoor
Pennywell Farm, Buckfastleigh  www.pennywellfarm.co.uk
Tiverton Museum of Mid Devon Life, Tiverton  www.tivertonmuseum.org.uk
ACTIVE & SPORTING EXPERIENCE                        
Finalists           
Mayflower Marina, Plymouth  www.mayflowermarina.co.uk
Reach Outdoors, Goodrington Sands  www.reach-outdoors.com
Ultimate Adventure Centre, Bideford  www.UltimateAdventureCentre.com
ARTISTIC, CULTURAL & LEARNING EXPERIENCE              
Sponsored by Brittany Ferries  www.brittanyferries.co.uk  
Finalists            
Le Vignoble, Plymouth www.levignoble.co.uk
River Cottage HQ, Musbury www.rivercottage.net
Virtual Jet Centre Ltd, Chudleigh www.virtualjetcentre.co.uk
B&B, GUEST ACCOMMODATION & INN OF THE YEAR
Sponsored by Nicholson's  www.nicholsonssw.co.uk    
Finalists           
Kaywana Hall, Kingswear  www.kaywanahall.co.uk
Mitchelcroft B & B, Buckfastleigh  www.mitchelcroft.co.uk
Rydon Farm Bed & Breakfast, Woodbury  www.rydonfarmwoodbury.co.uk
CAFÉ & TEAROOM OF THE YEAR
Sponsored by The Source Trade Show  www.thesourcetradeshow.co.uk
Finalists           
Home Farm Café, Bovey Tracey  www.homefarmcafe.co.uk
The Guardhouse Café, Brixham  www.guardhousecafe.com
Vintage Tea, Totnes  www.vintageteatotnes.co.uk
Highly Commended                   
The Sea Shanty Beach Café, Branscombe  www.theseashanty.co.uk
Two Coast County, Exeter  www.twocoastcounty.co.uk
CAMPING & CARAVANNING PARK       
Sponsored by A Head for PR www.aheadforpr.co.uk
FINALISTS           
Oakdown Country Holiday Park, Sidmouth  www.oakdown.co.uk
Whitehill Country Park, Paignton  www.whitehill-park.co.uk
Woodovis Park, Gulworthy  www.woodovis.com
DOG FRIENDLY ACCOMMODATION
Sponsored by Doggy Devon www.doggydevon.co.uk
Finalists           
Higher Wiscombe, Colyton  www.higherwiscombe.com
Whitehill Country Park, Paignton  www.whitehill-park.co.uk
HOLIDAY PARK & HOLIDAY VILLAGE                    
Sponsored by Stephens Scown solicitors www.stephens-scown.co.uk
Finalists           
Beverley Holidays, Paignton  www.beverley-holidays.co.uk
Hele Valley Holiday Park, Ilfracombe  www.helevalley.co.uk
Ladram Bay Holiday Park, Budleigh Salterton  www.ladrambay.co.uk
INTERNATIONAL VISITOR EXPERIENCE
Sponsored by Exeter International Airport  www.exeter-airport.co.uk
Finalists           
Mazzard Farm, Ottery St Mary  www.mazzardfarm.com
Torquay International School, Torquay  www.tisenglish.co.uk
Unique Devon Tours, Newton Abbot  www.uniquedevontours.com
LARGE ATTRACTION OF THE YEAR
Sponsored by DISCVR www.discvr.agency
Finalists           
Pennywell Farm, Buckfastleigh  www.pennywellfarm.co.uk
RHS Garden Rosemoor, Gt Torrington  www.rhs.org.uk/rosemoor
The Milky Way, Bideford  www.themilkyway.co.uk
LARGE HOTEL OF THE YEAR
Sponsored by Hotel Perfect www.hotelperfect.co.uk    
Finalists            
Highbullen Hotel Golf & Country Club, Umberleigh  www.highbullen.co.uk
Salcombe Harbour Hotel & Spa, Salcombe  www.salcombe-harbour-hotel.co.uk
The Grosvenor Plymouth, Plymouth  www.grosvenor-plymouth.com
PUB OF THE YEAR
Sponsored by Accounting & General   www.accountingandgeneral.co.uk         
Finalists           
Dukes, Sidmouth  www.dukessidmouth.co.uk
The Swan, Bampton  www.theswan.co
The Victoria Inn, Salcombe  www.victoriainn-salcombe.co.uk
RESTAURANT OF THE YEAR       
Sponsored by Charles Darrow www.charlesdarrow.co.uk
Finalists           
Northcote Manor Hotel, Umberleigh  www.northcotemanor.co.uk
Soar Mill Cove Hotel, Kingsbridge  www.soarmillcove.co.uk
The Coach House by Michael Caines at Kentisbury Grange, Barnstaple   www.kentisburygrange.com
The Elephant Restaurant & Brasserie, Torquay  www.elephantrestaurant.co.uk
SELF CATERING
Sponsored by Quality in Tourism  www.qualityintourism.com
Finalists           
Aish Cross Holiday Cottages, Stoke Gabriel  www.aishcross.co.uk
Higher Wiscombe, Colyton  www.higherwiscombe.com
Mazzard Farm, Ottery St Mary  www.mazzardfarm.com
Highly Commended                   
Eastacott Barton, Umberleigh  www.eastacottbarton.co.uk
SMALL ATTRACTION OF THE YEAR
Sponsored by App for Devon with Westward Marketing  www.appfordevon.com
Finalists           
Plymouth Gin, Plymouth  www.plymouthdistillery.com
Stuart Line Cruises, Exmouth  www.stuartlinecruises.co.uk
Thelma Hulbert Gallery, Honiton  www.thelmahulbert.com
Tiverton Museum of Mid Devon Life, Tiverton  www.tivertonmuseum.org.uk
SMALL HOTEL OF THE YEAR      
Sponsored by Clockwork Marketing   www.clock-work.co.uk
Finalists           
Buckland Tout-Saints Hotel, Kingsbridge  www.tout-saints.co.uk
Kentisbury Grange, Barnstaple  www.kentisburygrange.com
Northcote Manor Hotel, Umberleigh  www.northcotemanor.co.uk
Royal Castle Hotel, Dartmouth  www.royalcastle.co.uk
South Sands Hotel, Salcombe  www.southsandshotel.com
SPA & WELLBEING EXPERIENCE
Sponsored by Brewer and Bunney  www.brewerandbunney.co.uk       
Finalists           
The Spa at Ilsington, Ilsington www.ilsington.co.uk
Highly Commended                   
Hartland House Spa, Bideford  www.hartlandhouseretreat.com
SUSTAINABLE TOURISM AWARD                          
Sponsored by Plymouth Gin www.plymouthgin.com
Finalists           
Higher Wiscombe, Colyton  www.higherwiscombe.com
Mazzard Farm, Ottery St Mary  www.mazzardfarm.com
National Marine Aquarium, Plymouth  www.national-acquarium.co.uk
Woodovis Park, Gulworthy  www.woodovis.com
TOURISM EVENT OF THE YEAR
Sponsored by Booking.com  www.booking.com
Finalists           
Armed Forces Day, Plymouth  www.visitplymouth.co.uk
Exeter Festival of South West Food and Drink, Exeter  www.exeterfoodanddrinkfestival.co.uk
The Contemporary Craft Festival, Bovey Tracey  www.craftsatboveytracey.co.uk
TOURISM INFORMATION SERVICE OF THE YEAR
Sponsored by MiHi Digital  www.mihidigital.co.uk
Finalists           
Axminster Tourist Information Centre, Axminster  www.axminstertouristinformation.co.uk
Dartmouth Tourist Information Centre, Dartmouth  www.dartmoutheverytime.co.uk
UNSUNG HERO AWARD FOR CUSTOMER SERVICE
Sponsored by South West Water Business Services  www.swwbusiness.co.uk
Will be announced on the night
VENUE & BUSINESS TOURISM AWARD
Sponsored by Triodos Bank www.triodos.co.uk              
Finalists           
Dartington Hall, Dartington  www.dartingtonhall.com
Deer Park Country House Hotel, Honiton  www.deerparkcountryhotel.co.uk
Highbullen Hotel Golf & Country Club, Umberleigh  www.highbullen.co.uk
OUTSTANDING CONTRIBUTION TO DEVON TOURISM                  
Will be announced on the night              
WINNER OF WINNERS                
Sponsored by Great Western Railway www.gwr.com
Will be announced on the night
To view the list online please visit:
http://www.devontourismawards.org.uk/page/37/2015-finalists.htm