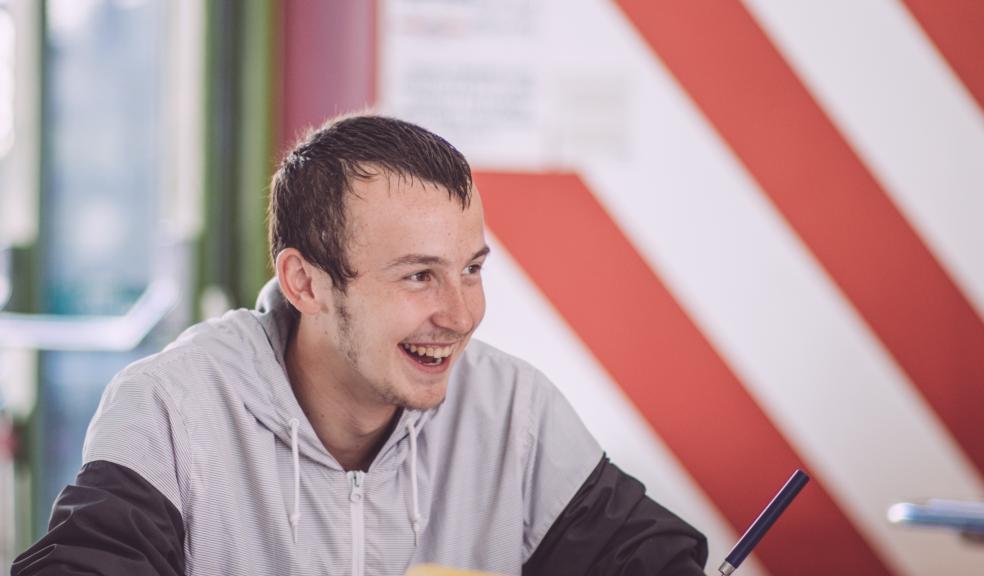 Shaun's strengths recognised with the support of DCH
Young Plymouth man, Shaun Millington, has thanked DCH for supporting him when he needed it most by giving him a home to live in and mentoring him on essential independent living skills such as money management and cooking for himself.
Shaun, who has learning difficulties, started his journey with DCH in 2014 living in accommodation for young people at Plymouth Foyer and celebrated moving into shared accommodation this autumn. During his time at the Foyer he achieved a Customer Service Level 2 qualification with Achievement Training. At the same time he is saving money to get his own place to live with the support of PATH, a charity that helps people to get into a range of accommodation. They provide skills to support people vulnerable to homelessness to secure and sustain appropriate accommodation, including helping people to move-on from supported housing when the time is right.
Shaun said, "DCH has helped me with everything, especially sorting out my money issues with help in understanding paying bills, income support and things like that. I have also had help to read letters. They put me on the right path not the bad one, by encouraging me to be my best. I did activities here and especially liked breakfast club which is a supportive group with other young people, and helped me keep me out of trouble. My Coaches set up support meetings with me and they would say to me about activities and apprenticeships going and help me with my problems."
Kathy Gilmore, DCH Director of Independent Living said, "We provide young people with a safe place where they can recognise their own strengths and skills to enhance their confidence and build on them to develop financial and social independence. We focus on strengths not weaknesses, recognising that young people like Shaun have a great contribution to make to our communities."
During his time with DCH Shaun gained support from financial confidence project WOW based in Plymouth which teaches young people to manage their money, pay bills and gain confidence in essential money management. Through one-to-one financial confidence sessions, customers have basic skills, such as how to pay bills and the importance of these moving into their independence. The WOW Project is a five year project funded by the Big Lottery.
DCH WOW Project Youth Worker Assistant, Chantelle Henderson said "I'm so proud of Shaun; he's come such a long way since we first met him and I know he's thrilled now to have moved onto the next step towards independent living."
Plymouth Foyer is part of the Foyer Federation network. Foyers provide a safe place for young people to live, learn and make the transition to independent adulthood.